FILL ONLINE REGISTRATION FORM HERE: http://www.tfaforms.com/292254
We are offering chartered courses with exemptions mainly (ICSM / IMM / ITM) recognized from SECP related Taxation and Marketing. We have best online tutors in Pakistan for MBA (Accounting, Statistics, and Economics) and GCSE / A level Math, Physics and Chemistry. We have College / school tutors in Karachi for Sindhi, Urdu, Pakistan studies, Islamiat, geography, English and History subjects.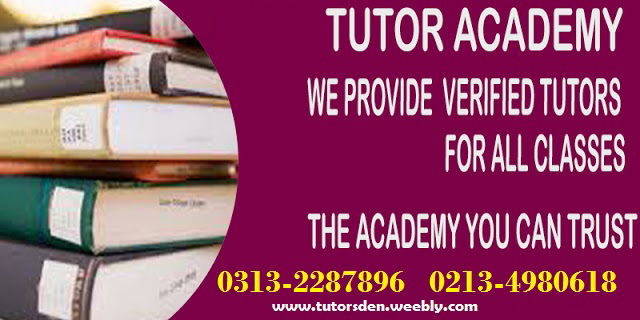 karachitutor.weebly.com offering home tutors all over Karachi and for your convenience we have published complete list of schools and colleges for which we are providing home teacher. We are the best tuition academy engage in home tuition sector. Kindly view the list and verify before making a call to CEO Sir Farhan on 03132287896 0213-4980618
Important Note:
Never Pay advance fees to the tutor, academy will not be responsible, No Claim without receipt.
Must inform about each and every absent to the academy.
We assume that the demo class is already being offered to you by the tutor, in case you have not yet take the demo, kindly don't pay fees, because it's not refundable.
Fees is charged against the time tutor spend, which is agreed between the student and tutor, number of classes and hours per class is mentioned above.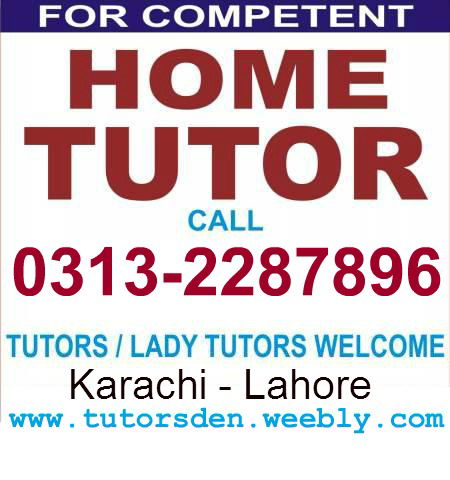 We are not responsible for any commitments made by tutor other than time, for example good grades and course completion.
Keeping in view the past, present and future situation of Karachi, must keep a CNIC copy of tutor in the very first class for your own safety.
Fees received by academy will be released to the tutor at the end of the month.
As we have mentioned earlier that never pay advance fees to the tutor, other than fees which has to be paid at the end, we are not responsible for any monetary dealing between tutor and student.
Tutor Registration fees is 500 against which 5 tuition information will be referred and then its up to you to done or nor done that tuition.
Rules and Regulations are subject to change and will be publish on website only.